For a Sarasota tour of modernist architecture, look no further than Florida's Sarasota MOD Weekend – first launched in 2014 and gaining momentum after bringing two formerly separate local architecture organizations under one umbrella: Architecture Sarasota. The festival, which this year ran from November 11-13, 2022, is the younger sibling of Palm Springs Modernism Week, an established celebration of vernacular mid-century modern architecture attended by a passionate community that lives and breathes it, and a global swarm of modern-o-philes (see the recent Palm Springs Modernism Week 2023 preview).
Like Palm Springs, Sarasota is a treasure trove of exemplary mid-century buildings, though the homes are often a bit more hidden thanks to tropical foliage. The city also has its own unique local architecture movement, the Sarasota School of Architecture, active in the 1950s and 1960s and characterized by the fusion of modernist ideas with experimental, climate-sensitive design; a combination of a Bauhaus approach to industrial materials, Frank Lloyd Wright's interest in site specificity, and the influence of South American and tropical vernacular.
Highlights of the ninth Sarasota MOD weekend included Paul Rudolph and Ralph Twitchell's experimental Cocoon home and Rudolph's later Sarasota High School with its chunky shadow system. Morris Hylton, newly announced president-elect of Architecture Sarasota, was involved in an initiative to save another such project, Rudolph's Riverview High School, also in Sarasota, which was sadly later demolished; while in a previous position with the World Monuments Fund, he allocated the first-ever Modernism At Risk grant to its conservation campaign. Architecture Sarasota continues this passionate work and is also involved in listing, buying and renting properties (such as Cocoon House) so that they can remain protected, maintained and open to the public.
'Buildings are three-dimensional objects that are meant to be experienced. Pictures tell you so much," says Anne Essner, president of Architecture Sarasota, sitting on the couch in the dynamic double-height living space of the Rudolph-designed Umbrella House. For her, MOD Weekend's home visits offer an accessible entry into good architecture and design that everyone can enjoy: 'Everyone loves houses. People come to get decorating and restoration ideas, and talking to the homeowners is an important part of the visit. It's all about awareness and helping people to see what they are experiencing. [With this festival] we want to promote good design in the built environment on a contemporary basis, as well as the management of the legacy of the Sarasota School."
A SARASOTA TOUR THROUGH MODERNIST ARCHITECTURE
Revere Quality House, 1948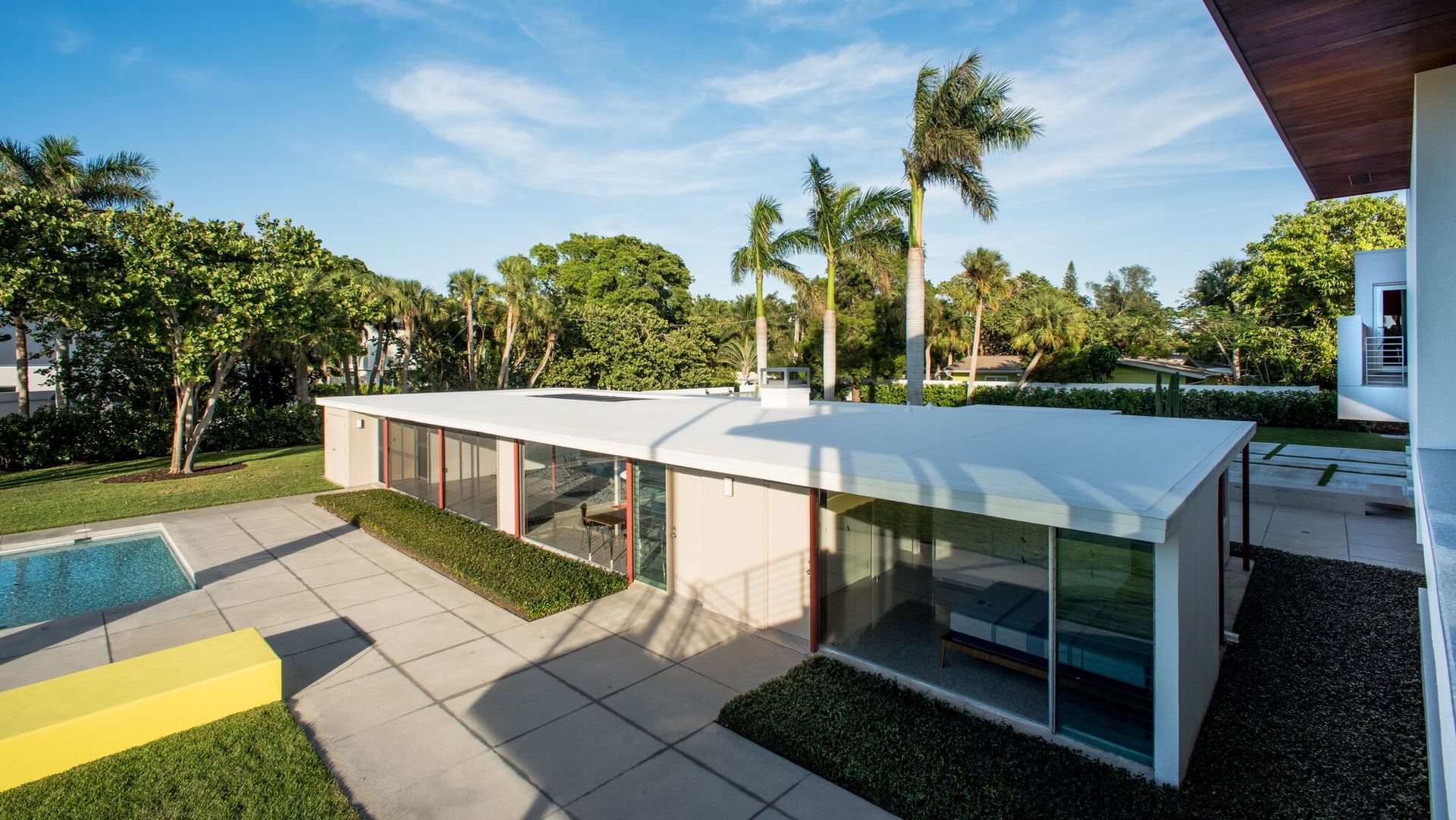 This minimalist home was designed as one of eight industrial prototypes for the Revere Quality Institute, a research arm of the Revere Copper Company. Designed by Ralph Twitchell and Paul Rudolph using the 'Lamolithic' method of construction, named after local concrete supplier John Lambie, which involved a steel-reinforced cast-in-situ concrete structure with 21 steel 'lally' columns. (In 2007, a large 'companion' property was designed on the same lot by architect Guy Peterson, eclipsing the original house.) The first room to enter is an 'outdoor room' with agave plants and a sitting area overlooking the pool. Inside you will find a terrazzo floor, plywood room dividers and a copper chimney hood. Twitchell would move into this house and live there until his death in 1978.
Healy Guest House / Cocoon House, 1949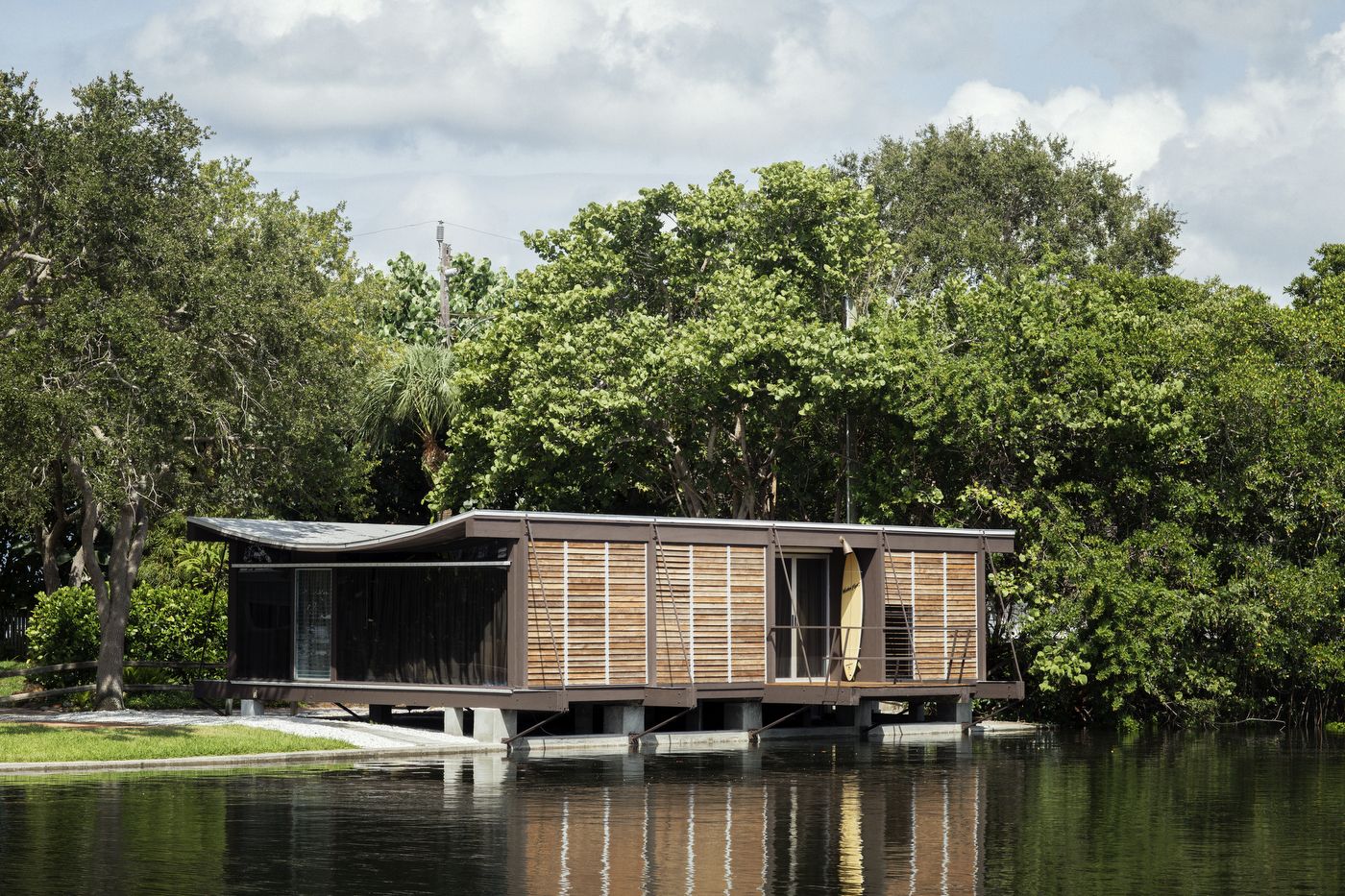 The design of Ralph Twitchell and Paul Rudolph's Healy Guest House (aka Cocoon House), built for Twitchell's in-laws, was based on Rudolph's experience at the Brooklyn Naval Yard, where he witnessed ships waterproofed with polymer spray. He tested the material on the soft U-shaped roof of the Cocoon house, which was attached to the ground with five steel 'straps'. Wooden blinds provided shade, privacy in the residential enclave on Bayou Louise and cross ventilation. The house was declared a post-war 'pioneer of design' by the Museum of Modern Art in 1953, although the roof required replacement in 1955.
Umbrella House, 1953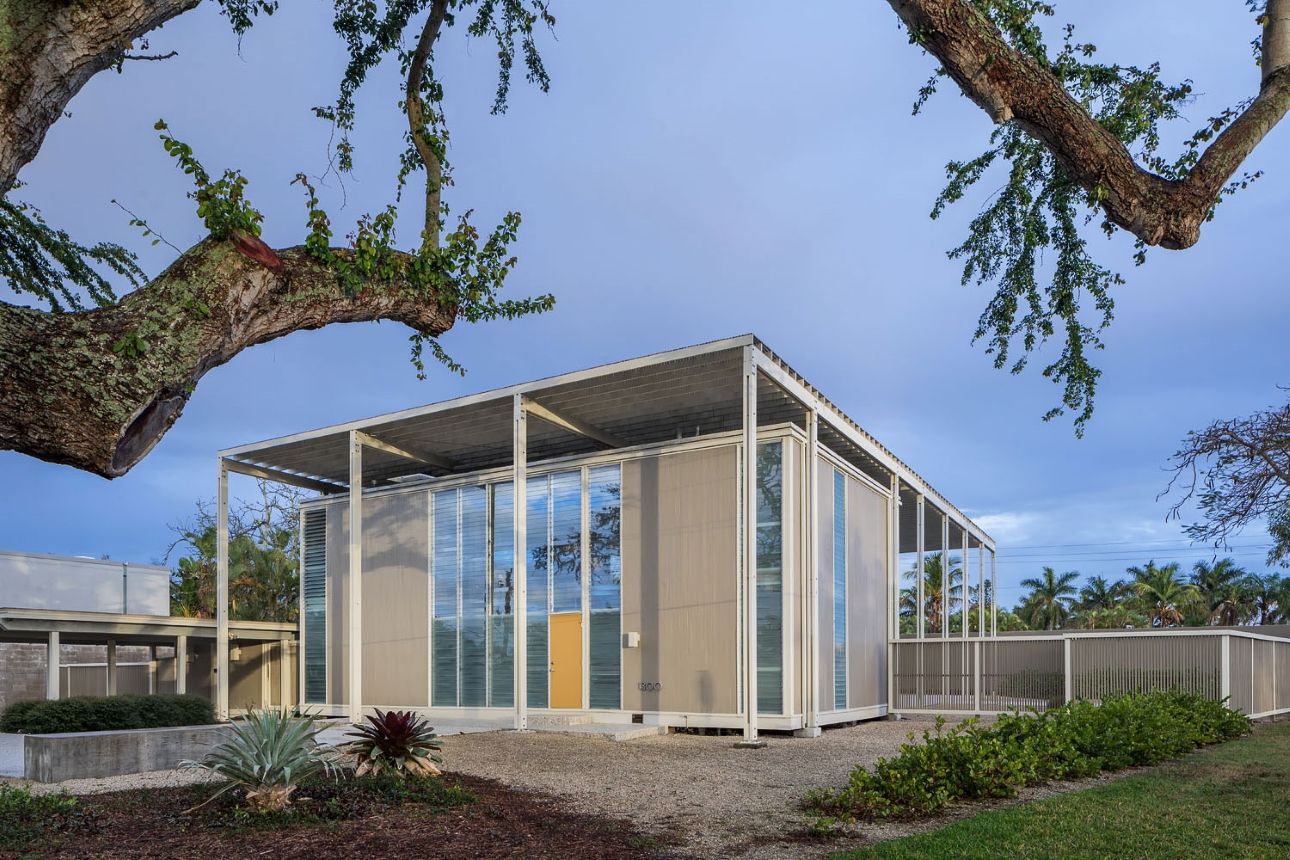 When it comes to Sarasota's modernism, it all started when forward-thinking and well-traveled developer Philip Hiss had a vision for creating a rich winter enclave with a community vision for modern living. He commissioned emerging architect Paul Rudolph (who had studied under Walter Gropius at Harvard and formed a local partnership with local architect Ralph Twitchell) to build forward-thinking structures for his country, resulting in the Umbrella House, a billboard for his new neighborhood, Lido Shores. This two-story house was built as a marketing suite for Hiss's Lido Shores neighborhood, right next to his studio and on the highway as a billboard for modern living, designed by Rudolph. The structure is steel lattice with blinds and a huge 3m high shade canopy frames the pool and shields the windows from the sun. The canopy, or "umbrella," was originally made from reclaimed cypress wood and tomato stakes, then replaced in 2015 with aluminum and steel wire X-bracing to meet hurricane-resistant building codes that protect structures from 160 mph winds. The ripe ground to build here attracted Sarasota School fellow members Gene Leedy, Victor Lundy, Edward "Tim" Seibert, and "youngest member of the Sarasota School" Carl Abbott, an Architecture Sarasota ally who participated in MOD Weekend, among others.
Hiss Studio, 1953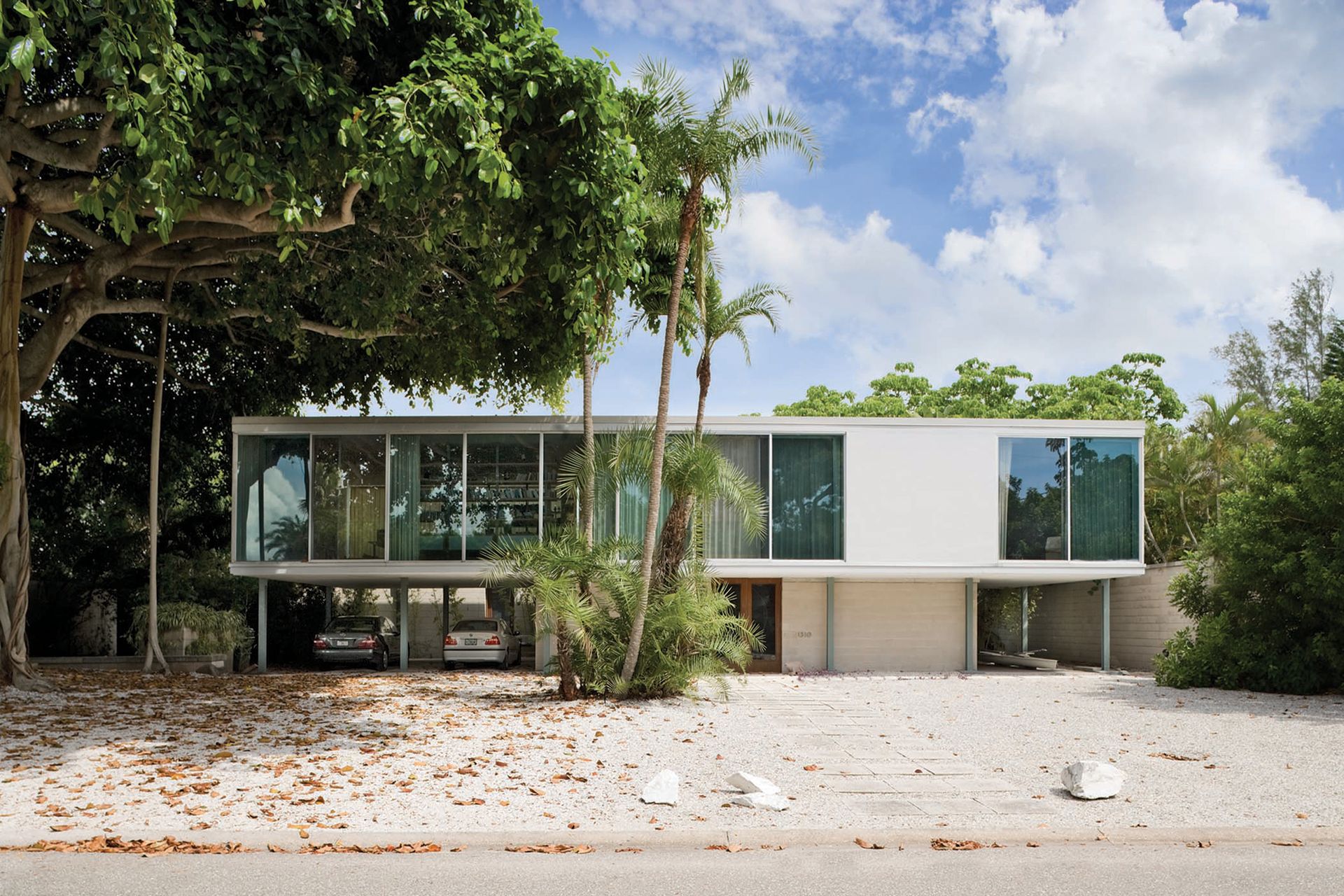 This structure was originally built as a sales office for Philip Hiss' development company on Lido Shores. The raised glass box rests on 14 steel columns and is designed to catch the wind, with shaded space for parking under the structure. The original oak planks and cork floors have been preserved. Architect Edward 'Tim' Seibert was known as Philip Hiss's 'right-hand man'.
Cohen House, 1953-55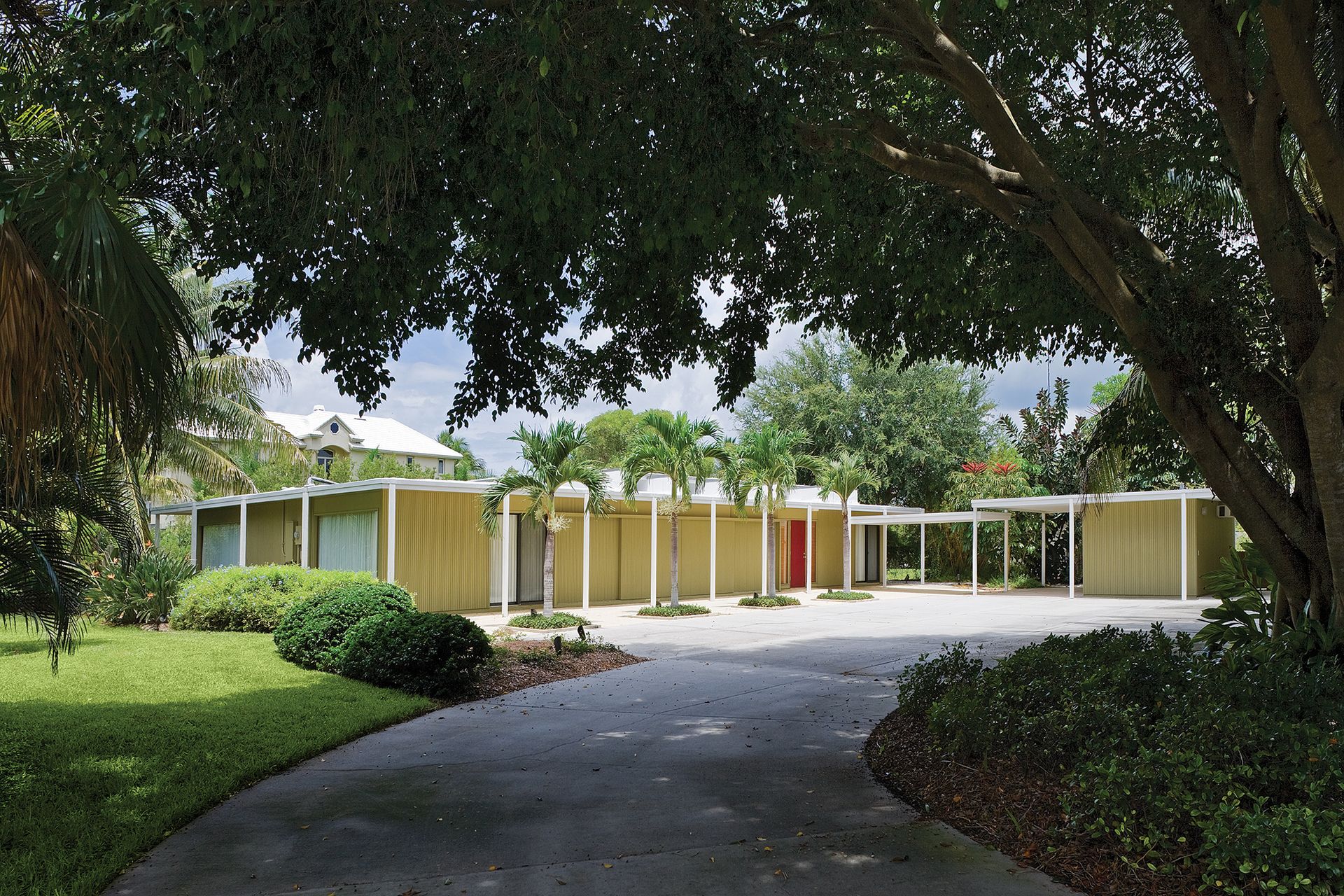 Designed by Paul Rudolph, this home expanded on the architect's Walker Guest House prototype, adding a freestanding carport and suspended covered walkway. The house overlooks Bayou Louise and has an open interior. It was designed for David Morris Cohen and his wife Eleene Cohen. David was a former mayor of Sarasota and co-founder of the Florida West Coast Symphony, of which he was conductor and violinist, while Eleene was cellist.
Sarasota High School, 1958-1960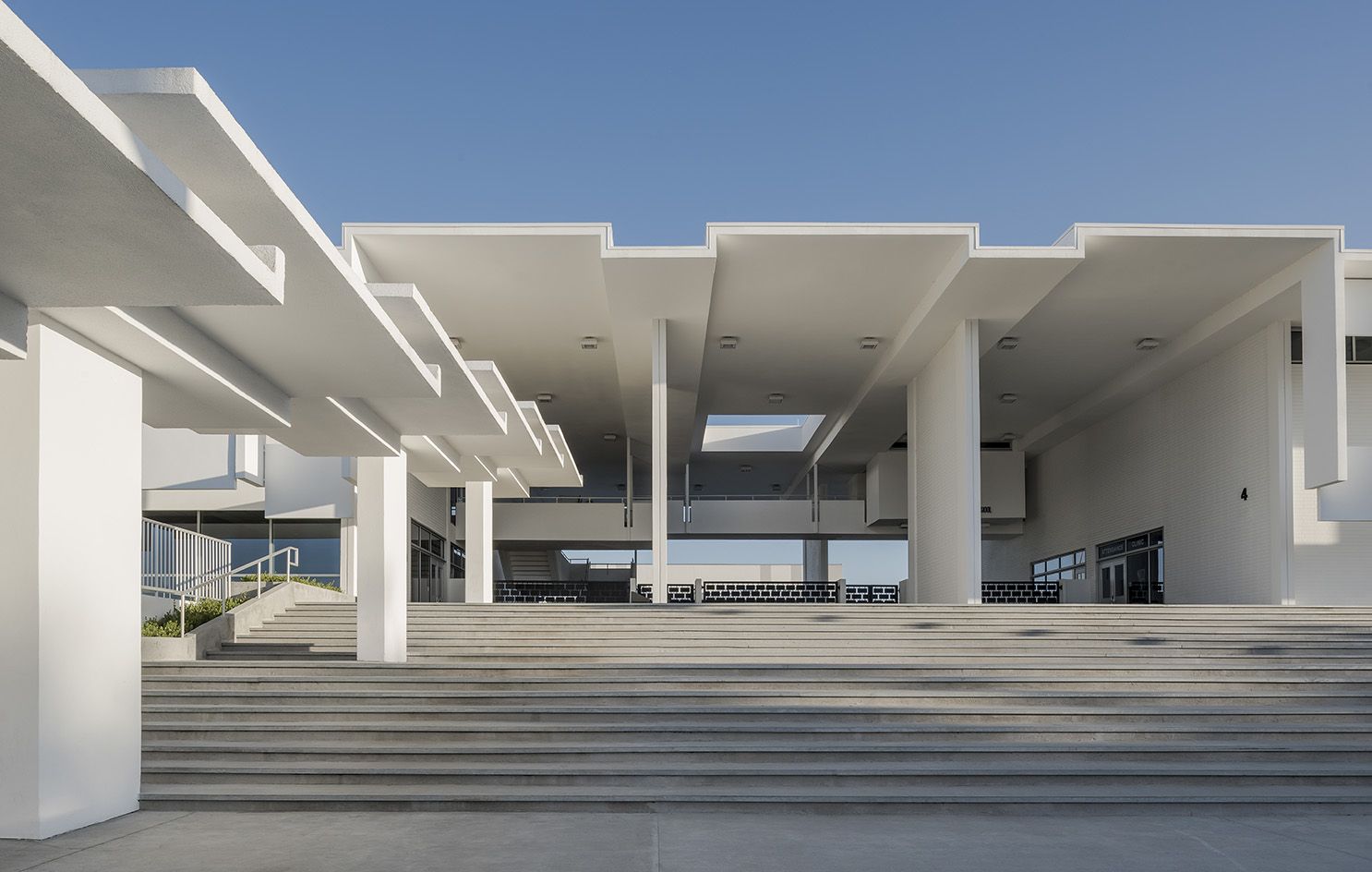 The Sarasota High School expansion was Paul Rudolph's most high-profile Florida commission and follows passive design and sustainable architectural principles. It has a facade of white shades of folded concrete that create an outdoor corridor. There is an open-air lobby, and prior to restoration, the hallways through the building were partially open-air, allowing a breeze to flow through. Le Corbusier's Unité d'Habitation and La Tourette's Dominican Convent were key references here for Rudolph, and the building was a precursor to the Art and Architecture building at Yale University.
Boterveld House, 2015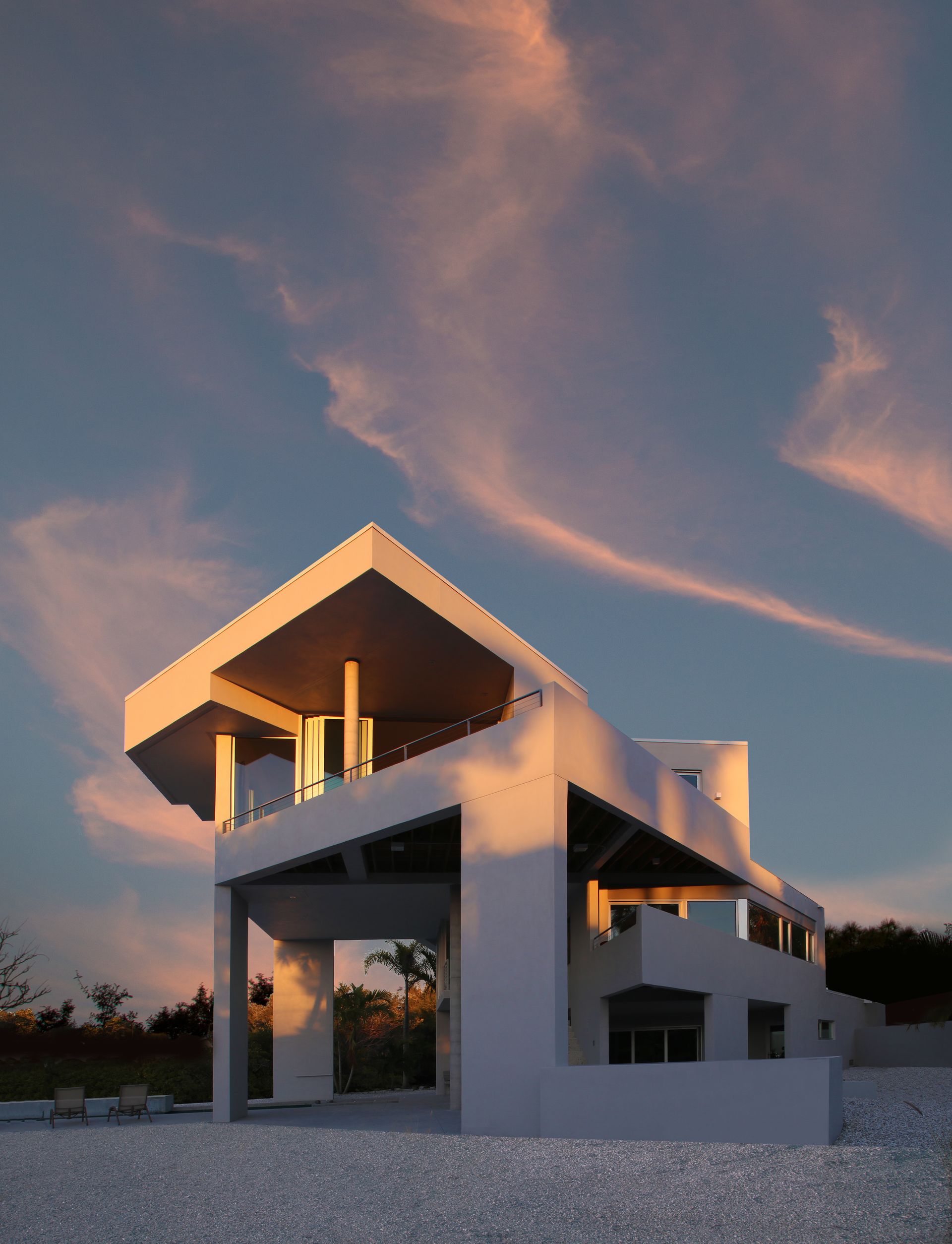 This multi-generational home was designed by Carl Abbott, who studied at Yale with Paul Rudolph, worked with IM Pei in New York, and collaborated with Richard Rogers and Norman Foster in London. He established his practice in Sarasota in the 1960s and became the youngest member of the Sarasota School of Architecture. Informed by the surrounding nature and encouraging outdoor living, this home has 180 degree views of the Gulf of Mexico and Lido Key. it features a shaded area beneath the upper floors of the home and is painted gray to reflect the shells of Siesta Key.
Launched with this year's Architecture Sarasota MOD Weekend, Architecture Sarasota's "Tropical Modernism: Climate and Design" exhibit will run at the McCullough Pavilion from November 17, 2022 – February 25, 2023
architecturesarasota.org (opens in new tab)