I've been living at Kentish Lodge in Farrer Park for 5 years: here's my review of this small but convenient apartment – Property Blog Singapore
District 8 has always been a melting pot of cultures (especially with the vibrant Little India area), so it's not surprising that the area also offers a wide range of amenities.
The area will also see further revitalization, with the upcoming Piccadilly Grand (16,000 square feet of retail/F&B space) and Farrer Park Field (additional sports and leisure facilities) offering more upgrades to look forward to in the future.
So if you've got your sights set on living in this area but aren't interested in newer apartments, this week we're providing a review of Kentish Lodge from one of the current residents.
Developed by Far East Organization, Kentish Lodge is smack dab in District 8, surrounded by popular eateries and restaurants, malls and shopping centers as well as schools and parks. Located at 3 Oxford Road, the estate is within walking distance of Farrer Park MRT station, making it very accessible.
All of these benefits certainly look good on paper, but what exactly does it feel like to live there? Let's learn this directly from Mandy (*not her real name for privacy reasons), who has lived in the condominium for about five years.
"We moved to Kentish Lodge in January 2018," Mandy recalls. "At the time, I had just given birth to my second child, making us a family of four plus our helper."
When looking for their new home, Mandy and her husband already had a number of considerations in mind. They used this as a criterion when choosing the house they thought would be a good fit for their family – and of course Kentish Lodge came out on top.
How Kentish Lodge compares to other estates
Space was one of the considerations to be met, so it had to be a place big enough for Mandy and her husband to each have their own space.
And like many homeowners, convenience was a top priority, and she explains it needs to be somewhere close to a mall, grocery stores, and coffee shops. A hawker center nearby would also be a big plus.
Accessibility was another important factor as their previous location was quite far from the MRT.
"We had to take an LRT to get to the MRT," said Mandy, "and we didn't want this in our new place." They wanted their new home to be somewhere easily accessible by train, bus and car.
Finally, as Mandy said, the place should be eclectic. "We wanted a neighborhood that had a little more character than usual." The pair tried to stay away from a place filled with new buildings with cookie-cutter designs, and District 8 certainly checked out with the vibrant shophouses lining the streets.
Kerrisdale was one of the other apartments they considered as it is near the Farrer Park MRT station. While like Kentish Lodge it seemed to live up to their standards, it had a number of shortcomings.
"It was slightly above our budget at the time. It also lacked the unique older flat vibe we wanted," she explained.
Which made Kentish Lodge stand out from other choices
When we asked her what attracted them to Kentish Lodge, she replied, "size, price, and location," adding, "Kentish Lodge was actually a very happy chance encounter."
However, Mandy admitted that they never actually knew that area existed until they started their house hunt. She openly shared their experience:
"Because we wanted a place near the MRT station and I preferred the purple (NEL) line, I did a random search on Property Guru for properties near the stations on the NEL line, and then we came across Kentish Lodge . As we visited the property and wandered around the area, it quickly dawned on us that it was a hidden gem conveniently located on the edge of town."
She said they really liked that it was a fairly old condominium, meaning it has a good-sized 3 bedroom, 3 bath unit at 1184 square feet. They also liked that the boutique project had its own style in terms of building design – it didn't look too modern and it wasn't too busy, so it's quite quiet and private.
Here's another small but personal detail that made Kentish Lodge stand out. Mandy said she also liked the name of the road it's on: Oxford Road.
What a typical day looks like at Kentish Lodge
Given the proximity to the city, she said they usually spend their weekends doing quick errands, such as grabbing a meal or going to different supermarkets for variety. The location of their estate offers many great options for children's classes, so sending these activities to their children is also part of their routine.
Since Mandy's husband is Japanese, she said it's great to be close to Don Don Donki at City Square and Square 2 at Novena and Isetan at Shaw Scotts. And if they feel like going to a park, the Botanic Gardens are also a short 10 minute drive away.
And as we said at the outset, Farrer Park Field will be rejuvenated with public sports facilities such as a boxing gym, jogging track, playgrounds and fitness corners. This is an addition to the approximately 1.2 hectare central green area consisting of a field and park. It's about a 10 minute walk from Kentish Lodge which is good to have in an area that can get very busy.
A look behind the facade of Kentish Lodge
Each development also has its drawbacks, and it is best to get to know them before buying a property. We asked Mandy about any issues they have about staying at Kentish Lodge, and she mentioned a few.
"As a family with young children, I would say that the Kentish Lodge, a boutique development, lacks the usual facilities that would be great with young children, such as a large swimming pool, large play area and function room."
They said they also hoped the development would improve some of their facilities, particularly the playground and outdoor barbecue area, as they are quite old.
Considerations that potential buyers should know
It was during the COVID-19 period when the couple discovered how great the location of their condominium is.
At the time, Mandy and her husband were working entirely from home and were getting quite bored of having lunch at the hawker center nearby. They challenged themselves to discover new shopping centers that are less than 10 minutes' drive from their home.
"That's when we really discovered that Kentish Lodge is the epicenter of great dining. From Whampoa Food Center to Golden Mile Food Center to Upper Boon Keng Market & Food Center and Albert Center Market & Food Center… options are plentiful!"
She added that these are just malls, not counting cafes and coffee shops.
Another benefit of living at Kentish Lodge is the condominium management. "They've been pretty proactive about the upkeep of the condominium," she said. "with initiatives taken to maintain and upgrade the facilities such as the lifts, car park and a recent fresh coat of paint. Also, the issues raised are addressed by management quite quickly."
If you intend to rent out the property you will appreciate the location even more as the development has good rental demand. With its proximity to the city area and also to the Singapore Management University, potential tenants include not only local residents but also overseas students, especially as Kentish Lodge has spacious 2-bedroom and 3-bedroom units.
Staying at Kentish Lodge Condominium
In the end, the winning combination for Kentish Lodge was really all about the location.
"It is an 8 minute walk to Farrer Park MRT station and a 10 minute walk to City Square Mall, a bus stop right outside the condominium is a short three bus stop ride to United Square Mall or Novena MRT station. With a car it takes us to major shopping areas such as Orchard, Somerset, Dhoby Gaut, Bugis, Suntec etc in less than 10 minutes, via the nearby CTE.
My husband loves cycling and the location is also perfect for him to be able to cycle to and from work at Telok Ayer every day, which takes him about 20 minutes."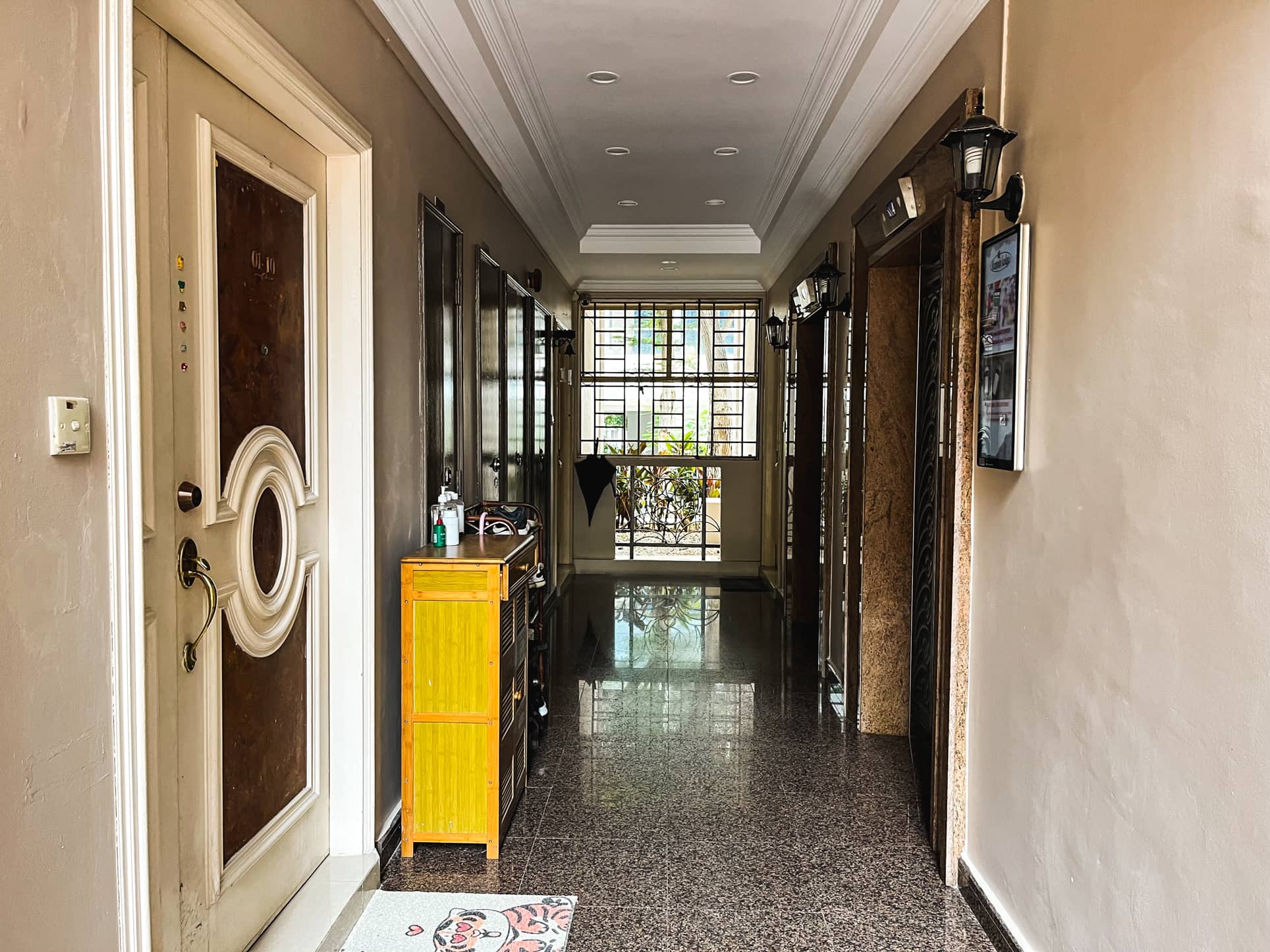 The apartment is also just a 5 minute walk from Pek Kio Market & Hawker Centre, which has a few other coffee shops and good hawker fare that isn't overcrowded.
Next to the hawker center you will also find a good mix of legendary dishes such as the famous Ng Ah Sio Bak Kut Teh and Legendary Bak Kut Teh. There are also cool cafes and hidden gems that serve great coffee and food, such as Old Hen Kitchen, SYIP, Brunches Cafe, and The Bakehaus.
The place is also just a 15 minute walk from bustling Little India – a lively and bustling area that offers a whole host of dining options.
Currently, Mandy said they have no plans to move because she can't help but reiterate how great the location of their home is.
However, they still check properties every now and then to see if there are larger units nearby. "We also have a golden retriever now, so it can sometimes feel like the house is getting too small for us!" But so far, she said, they haven't come across any units larger than theirs that are as good a price.