DEXTER — Whether inspired by boredom, beach combing, music, or nature, John P. Horbacz lives his artistic dream as he creates alien visions at his home on Adams Cove, Pillar Point, adjacent to Guffin Bay.
Some of those visions are on display until Sept. 24 at Traditional Arts in Upstate New York, 53 Main St., Canton, with the exhibit "John Horbacz: Dreams vs. Reality."
"Riotious acrylic colors, swirling textures and dreamy imagery, both haunting and bright, flow across the artist's canvases," reads a TAUNY description of the exhibition.
"I've always dabbled in art a bit," said the Watertown High School graduate in 1977.
But in 2012, he was "executed on a plank" of a Watertown factory when he was injured on the job. He spent three days in a hospital and had to leave the workforce.
"I've had back problems ever since," said Mr. Horbacz.
While he was physically stumbling, he regained an artistic vision that he was engaged in as a child.
"I've always been interested in art in one form or another," said Mr. Horbacz. 'Here at Pillar Point in the winter there is a lot of boredom. You need to find something here in the winter to keep your mind and body busy, especially if you are injured. I used to be an avid outdoorsman. I ice fishing, bass fishing, walleye, deer hunting – whatever. After hurting your back like me, you're very limited in that aspect of your life, so I had to find something."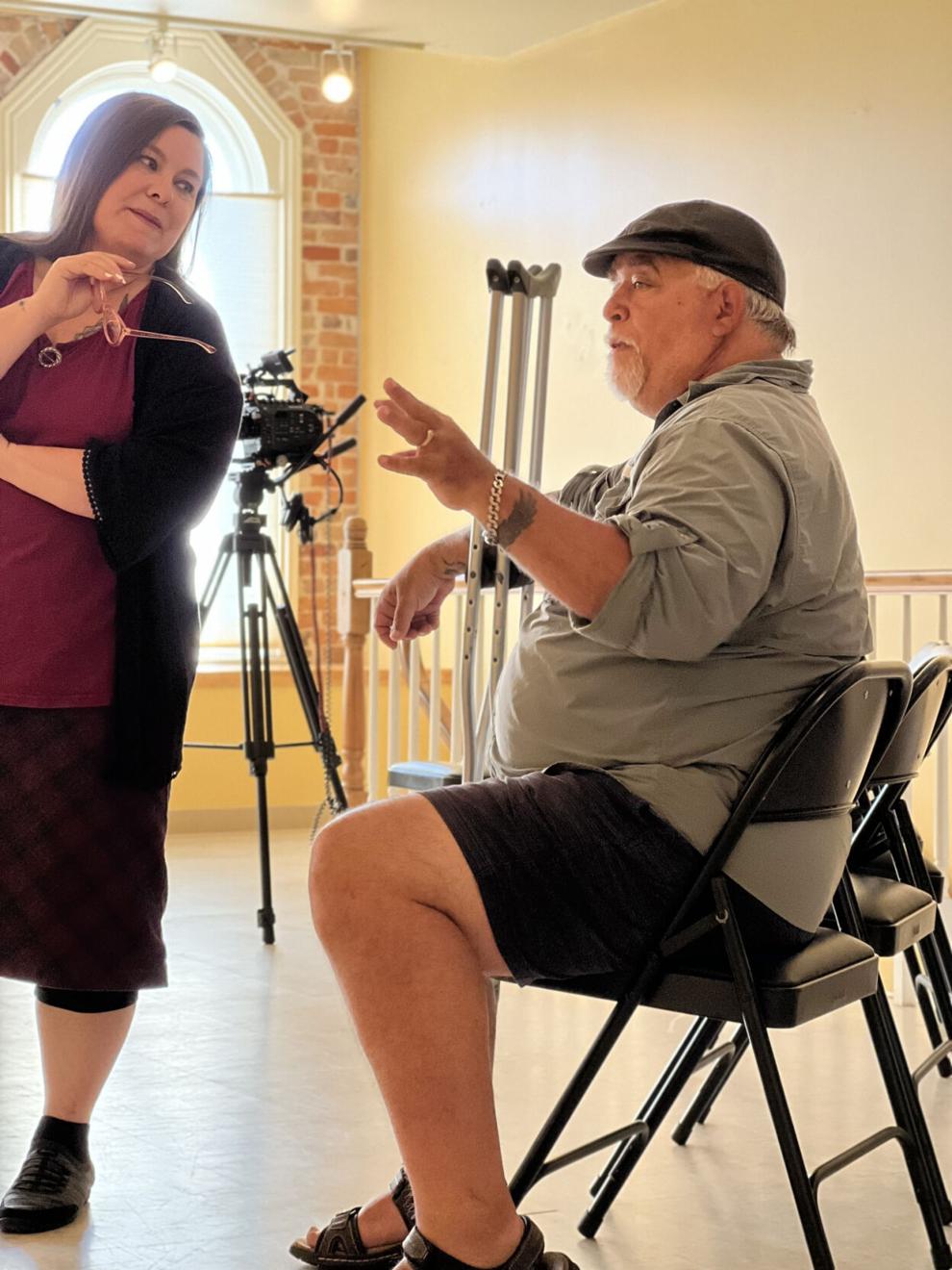 His youngest daughter, Autumn D. Tierney, a professional artist in Bangor, Maine, helped him find that something. Mr. Horbacz has two other children, daughter Angel and son Cody. He lives with his partner Marian and dog, Annie.
Autumn sent him some blank canvases.
"I started painting," said Mr. Horbacz. "It snowed a bit. When you're hurt and you can't do what you want to do and what you've been doing all your life, you need something to take you away from your daily, newfound existence. When I paint, my thoughts go elsewhere. It's like reading a book or whatever. You find peace, away from reality."
His daughter Autumn, a self-taught artist who owns Three Graces Tattoo & Art Gallery in Bangor, said growing up saw evidence of her father's artistic talent — "some assemblages and things made of different material."
"I've got some ceramics from him," said Mrs. Tierney. "He was always very artistic, but he didn't think it would appeal to the public. After he was injured, I thought, 'Just paint! Use it to stay happy and work towards something." Whatever was going on with his back, he could always paint to keep busy and happy."
Ms. Tierney added: 'He didn't think it would be appealing, but people love it. That's something a lot of people deal with. They don't have the confidence in themselves to come out. He did, and he was rewarded for it. It's great to see."
What one sees on the canvases made by Mr. Horbacz does not come from photographs.
"A very high percentage of what I paint comes from dreams, or just ideas – things I've seen in the forest or fishing or whatever," said Mr. Horbacz.
'Suprised'
In June 2021, Mr. Horbacz's creations along with the work of two others were showcased in Hammond at the "Art, Inside Out!" exhibition. He shared exhibition space at the Iva Smith Memorial Gallery with Richard Atkinson of Harrisville and the late R. Paul Saphier.
"Dreams vs. Reality" at TAUNY is co-curated by Evelyn Saphier, founder of the Iva Smith Memorial Gallery and Mathilde ("Tilly") Frances Lind, program director at TAUNY. The couple paid a visit to Mr. Horbacz's home at Pillar Point to inspect his art and talk to the artist.
"When I got there I didn't really know what to expect," Ms. Lind said. "In my opinion, his art is very difficult to photograph. When you see pictures of it, you don't realize how rich it is. It looks very busy, but the photos tend to miss a lot of the depth of his work. But when I got to his house, I was just amazed."
She also noticed how productive Mr. Horbacz is. His visions seem endless.
"He had dozens and dozens and dozens of paintings in his living room," Mrs. Lind said. "And so much is happening in these paintings. So much color and movement. And I enjoyed talking to him about it because he has so much depth as an artist. He thinks very deeply about these images and his process. And he is a great storyteller."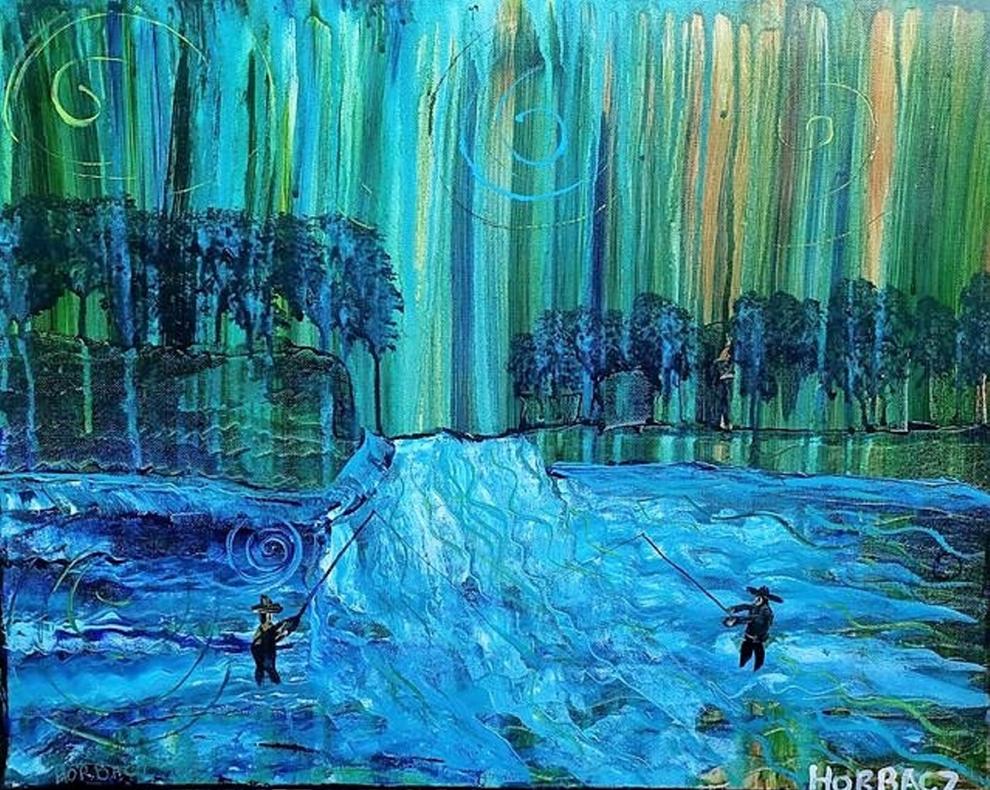 Mr. Horbacz's creations have been described as 'abstract impressionistic'.
"I was influenced by Van Gogh, with the swirling skies," he said. "I just love that and try to incorporate it into most of my paintings."
'ART OF THE MIND'
One of Mr. Horbacz's favorite paintings is his 'Art of the Mind'. In it rests an elderly gentleman, an artist, in front of a painting with flames. In the background there are other creations that the figure has made.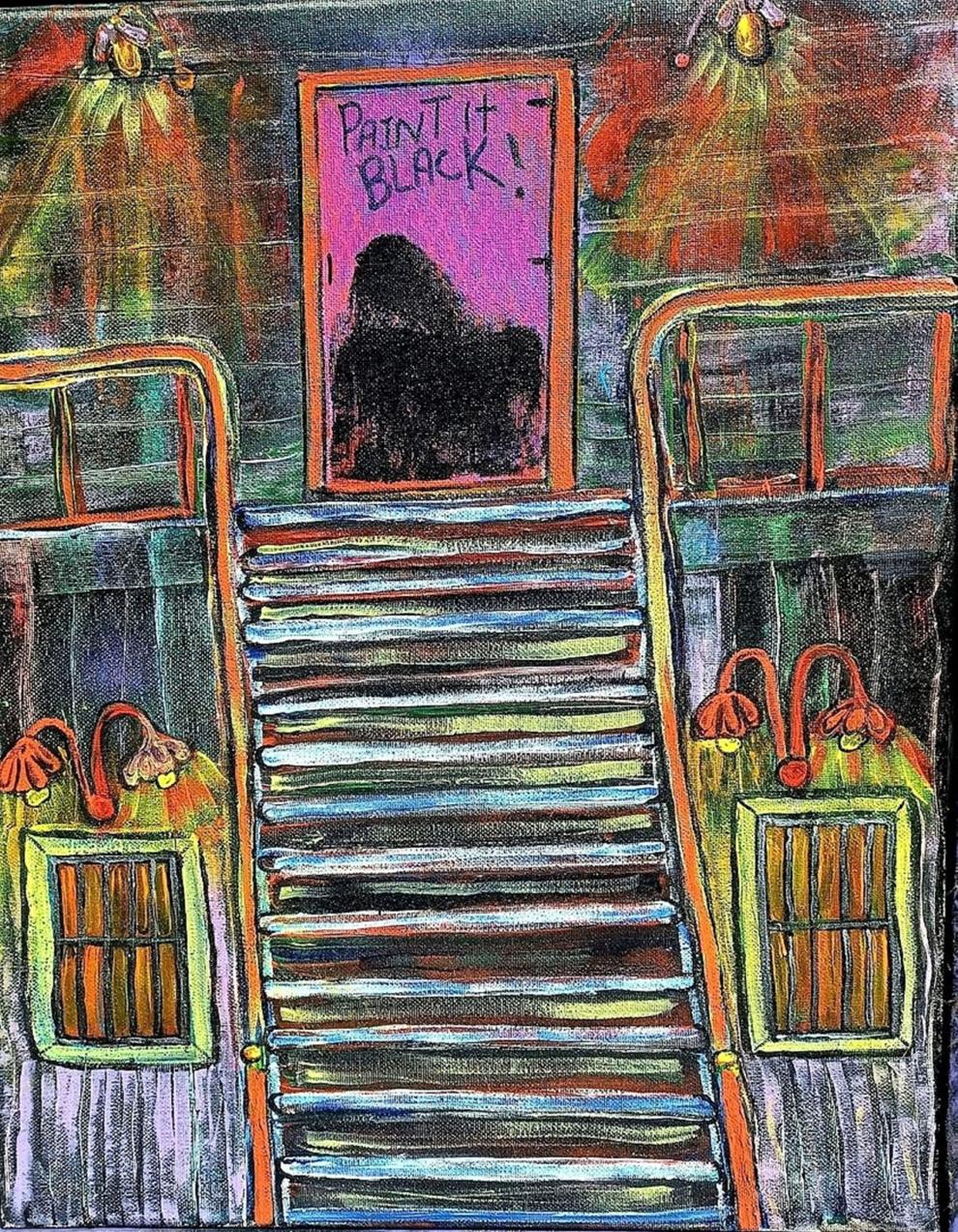 "His room is so cold and he has no heating that he has painted a painting to warm himself," said Mr. Horbacz. "You can put in a little dementia. I'm not sure where that came from."
The artist is often inspired by a song – from the work of artists ranging from Neil Young to Metallica. His "Paint It Black" is inspired by the Rolling Stones hit from 1966.
"I kept hearing that song in my head and wondering where it came from," Mr. Horbacz said. "Maybe it was a commercial or a song on the radio. But it took about four days. It started to get annoying. I couldn't shake it."
Gradually a vision arose with the song he was painting.
"It's an alley with stairs going to the back of the club, with stones and lights in the stairs," said Mr. Horbacz. "Half of the door of the club at the back was painted black and the other half was painted red.
Graffiti on the door reads "Paint It Black."
"After I painted that, the song disappeared from my head," said Mr. Horbacz. "It kind of made me realize that there was something telling me to paint this. I know it sounds weird. But something told me to paint that painting. It happens quite often."
There are 32 paintings in TAUNY's "John Horbacz: Dreams vs. Reality" exhibition. The artist has even more paintings at home.
"I paint rather quickly," said Mr. Horbacz. "I could paint a painting every day. My style is quite raw."
"He has a vivid imagination and I would say a rich inner life," said his daughter Mrs Tierney. "I believe in reincarnation. Who knows what skills he has brought into this life from a past life. I think his art skills are innate. They come from somewhere."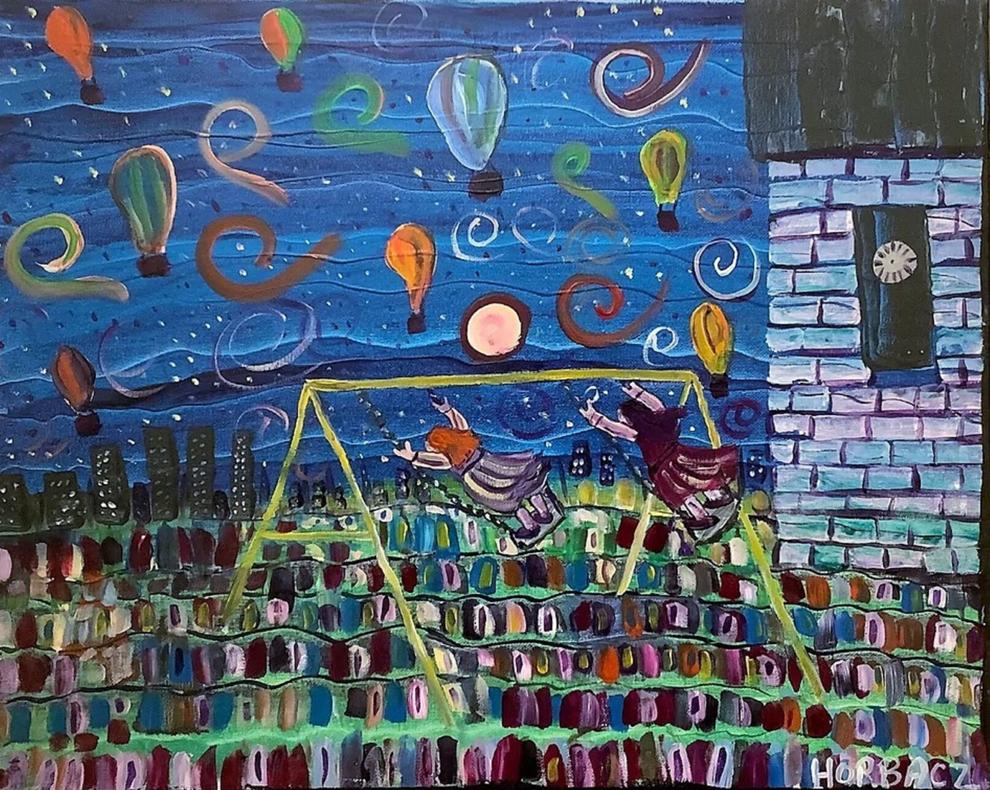 Ms. Lind said that Mr. Horbacz's artwork reminds her of magical realism – a narrative strategy, mainly found in Latin America, characterized by the actual inclusion of fantastic or mythical elements in apparently realistic fiction.
"The walls between the two are very thin," said Ms. Lind. "His work reminds me of that. You have this dream world and you have the real world. But they are not completely separated."
The details
– WHAT: The exhibition "John Horbacz: Dreams vs. Reality", a collaboration between Traditional Arts in Upstate New York and the Iva Smith Memorial Gallery, Hammond.
– WHERE: The upstairs gallery in TAUNY, 53 Main St., Canton. The floor is wheelchair accessible.
– WHEN: until Saturday 24 September. A closing reception will be on September 24 from 2 PM to 4 PM.
– COMPOSITION BY: Mathilde F. Lind of TAUNY and Evelyn Saphier, founder of Iva Smith's Memorial Gallery.
– FROM NOTE: All artworks are for sale. Purchased artworks can be picked up or shipped after September 24.
– ON THE WEB: wdt.me/TAUNYandHorbacz